Route, Map & Elevation Profile
The routes for the sixth edition of Ultra Fiord® are located in the same geographic area as previous years, but we will have some new race sections in all of the race distances. In this new model, the a runner can opt to run 60K, 42K, 27K & 15K. For each race distance, previous experience is necessary in order to participate and complete a selection process, in addition to complying with minimum equipment and other requirements.

In the preliminary profiles below, the fundamental differences between the four race distances can be visualized. After choosing your race distances, it is important to consider that, within the routes of Ultra Fiord®, the level of difficulty depends on the distances and altitudes, but also the type of terrain, which will require greater physical effort and greater concentration. In addition, the meteorological conditions on race day, which is an unpredictable factor, could potentially increase exponentially the level of difficulty than what you were imagining. In the graphic, you can identify letters marked A toK, which show some common points among the different race distances. The 42K, 27K and 15K race distances have the same starting line and finish line (K), while the 60K starts at a further point (A), but will converge towards the same finish line (K). Only the 42K and 60K race distances have a glacier crossing section (F).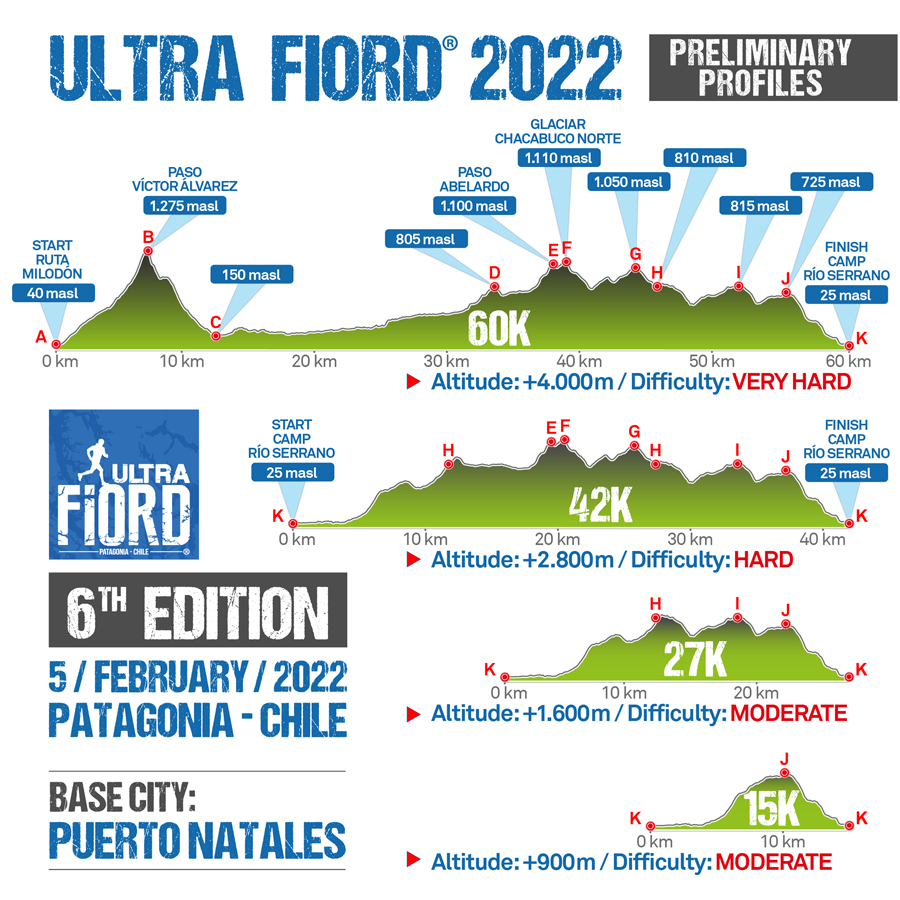 The following preliminary map presents the race zone and a few relevant points, such as Puerto Natales (base city), the starting lines and finish line, the mountain passes (Víctor Álvarez & Abelardo), principal vehicle routes in the zone (marked in red). It is also possible to perceive the geographical context of the area, with extensive fjords, enormous glaciers and, towards the N and NW, Torres del Paine National Park. The details of the race routes will be presented in the coming weeks.